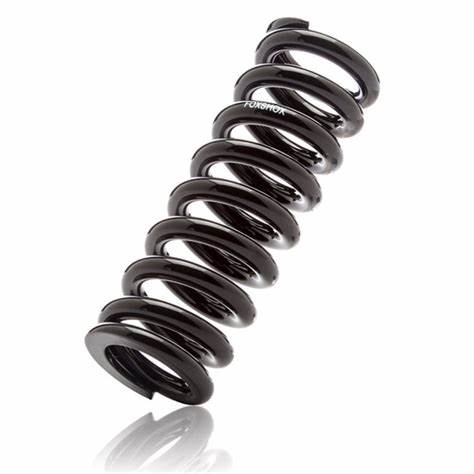 Fox Spring: [5.75 TLG X 1.385 ID X 550 lbs/in, 2.80 Travel] Black
---
Low stock - 1 item left

Inventory on the way
Introducing the Fox Spring: [5.75 TLG X 1.385 ID X 550 lbs/in, 2.80 Travel] Black, a high-performance suspension spring designed to enhance your bike's performance and provide a smooth and controlled ride. Engineered by Fox, a renowned brand in the cycling industry, this spring is crafted with precision and quality materials to meet the demands of both professional riders and avid enthusiasts.
The Fox Spring boasts impressive specifications: it measures 5.75 TLG (Total Length Guide) with a 1.385 ID (Inside Diameter), providing optimal fit and compatibility with a wide range of suspension systems. With a spring rate of 550 lbs/in (pounds per inch), it delivers a responsive and progressive feel, ensuring excellent support and control over varying terrain and riding conditions.
Featuring a sleek black finish, the Fox Spring adds a touch of style to your bike setup. Beyond its aesthetic appeal, the spring's performance characteristics shine through. Designed to absorb and distribute impacts effectively, it helps smooth out rough trails and reduces fatigue, allowing you to ride longer and with greater confidence.
The 2.80 inches of travel provided by this spring ensures ample suspension movement to handle a variety of trail features. Whether you're tackling technical descents, hitting jumps, or maneuvering through rock gardens, the Fox Spring offers the necessary responsiveness and support to keep your bike in control and your ride enjoyable.
Durability is a top priority, and the Fox Spring is built to last. Constructed with high-quality materials and precision engineering, it can withstand the demands of aggressive riding styles and rough terrain. Ride with peace of mind, knowing that the Fox Spring will provide consistent performance and reliability throughout your cycling adventures.
The Fox Spring: [5.75 TLG X 1.385 ID X 550 lbs/in, 2.80 Travel] Black is an essential component for riders seeking optimal suspension performance. Whether you're a downhill racer pushing the limits or a trail rider looking for improved comfort and control, this spring will enhance your bike's capabilities, allowing you to unlock its full potential.
Upgrade your suspension system with the Fox Spring and experience the difference it makes in your riding. Enjoy smoother, more controlled descents, better traction, and improved overall performance on the trails. Trust in the quality and reputation of Fox to deliver a spring that exceeds expectations and elevates your cycling experience.
All shipping within Canada will be Via UPS Ground or Canada Post unless otherwise specified upon checkout.
All shipping to the USA will use DHL, USPS OR UPS
Please see our Shipping & Returns page for more information