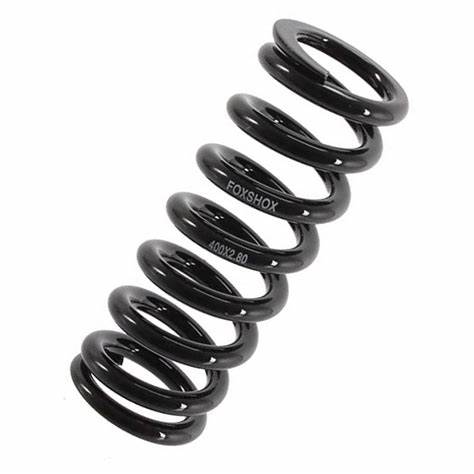 Fox Spring: [5.728 TLG X 1.385 ID X 500 lbs/in,2.800 Travel] Black
---
In stock, ready to ship

Inventory on the way
Introducing the Fox Spring in Black, a high-performance suspension spring designed to enhance your mountain biking experience. With its precise specifications and durable construction, this spring offers optimal support, responsiveness, and control for a wide range of riding conditions.
The Fox Spring features a specific set of measurements: 5.728 TLG X 1.385 ID X 500 lbs/in and 2.800 inches of travel. This configuration is carefully engineered to provide the ideal balance between plushness and firmness, ensuring a smooth and controlled suspension response. Whether you're tackling technical descents, hitting jumps, or riding aggressive trails, this spring delivers the performance you need to conquer any terrain.
Crafted with meticulous attention to detail, the Fox Spring is made from high-quality materials that are built to last. Its robust construction ensures longevity and reliability, even under demanding riding conditions. The black finish not only adds a touch of style but also enhances the spring's durability and resistance to the elements.
The Fox Spring is designed to be compatible with a variety of mountain bike suspension systems. It is engineered to fit seamlessly into Fox suspension forks, offering a hassle-free installation process. With its precise measurements and reliable performance, this spring allows you to fine-tune your suspension to match your riding style and preferences.
The black color of the Fox Spring adds a sleek and stylish touch to your bike's overall aesthetic. Whether you're looking to complement your existing components or create a cohesive look, this black spring is sure to enhance the visual appeal of your mountain bike.
Upgrade your suspension system with the Fox Spring in Black and experience the difference it makes in your ride. Enjoy the precise response, improved control, and enhanced performance that this high-quality spring provides. Ride with confidence, knowing that your suspension is optimized for maximum performance, allowing you to push your limits and take on any trail with ease.
All shipping within Canada will be Via UPS Ground or Canada Post unless otherwise specified upon checkout.
All shipping to the USA will use DHL, USPS OR UPS
Please see our Shipping & Returns page for more information