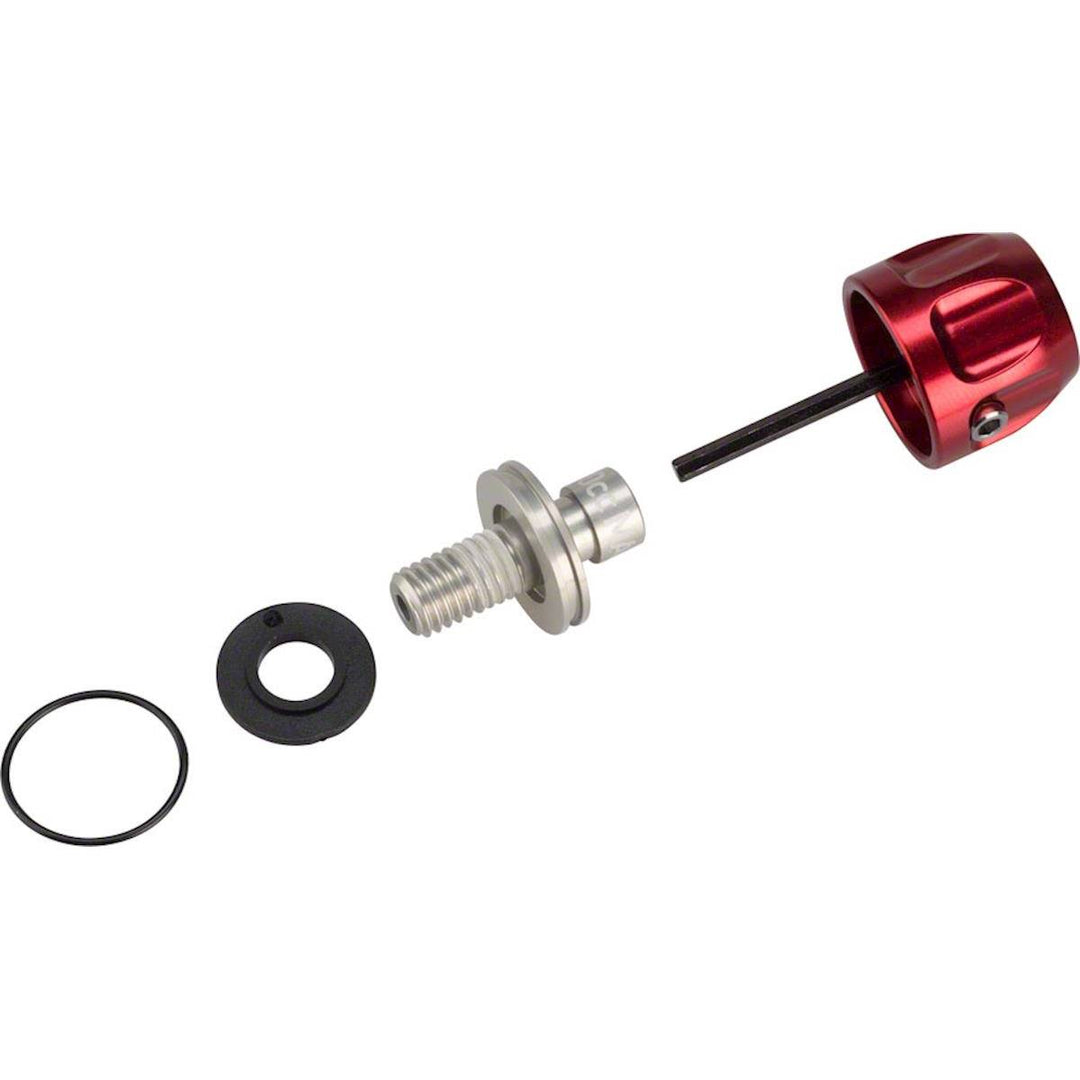 Rockshox Rebound Adjustment Knob - Domain/Boxxer
---
Low stock - 2 items left

Inventory on the way
Introducing the Rockshox Rebound Adjustment Knob for Domain/Boxxer, a precision-engineered component designed to fine-tune the suspension performance of your Rockshox fork. This adjustable knob allows you to customize the rebound damping to match your riding style and trail conditions, providing optimal control and comfort on every ride.
The Rockshox Rebound Adjustment Knob is specifically designed for use with the Domain and Boxxer series forks, ensuring a seamless fit and compatibility. Whether you're tackling rough downhill descents, technical trails, or aggressive jumps, this knob empowers you to dial in the perfect rebound settings to suit your preferences and maximize your suspension's performance.
With its user-friendly design, adjusting the rebound damping is a breeze. The knob features clear markings and a distinct click mechanism, allowing for easy and precise adjustments on the fly. Fine-tune the rebound speed to find the sweet spot that optimizes your fork's response, allowing it to absorb impacts efficiently while maintaining traction and control.
Crafted with durability in mind, the Rockshox Rebound Adjustment Knob is made from high-quality materials that ensure longevity and reliability. It is built to withstand the demands of rigorous off-road riding, providing consistent performance over time. The knob's smooth rotation and robust construction ensure it remains responsive and functional, even in challenging environments.
The Rockshox Rebound Adjustment Knob enhances your overall riding experience by giving you the ability to personalize your fork's rebound characteristics. Whether you prefer a faster rebound for quick, snappy responses or a slower rebound for improved stability and control, this knob empowers you to fine-tune your suspension to match your riding style and the terrain you're conquering.
Upgrade your Rockshox Domain or Boxxer fork with the Rockshox Rebound Adjustment Knob and unlock the full potential of your suspension system. Experience improved traction, better handling, and enhanced confidence on the trails as you fine-tune your rebound damping to perfection. Take control of your ride and enjoy the smooth, controlled performance that only a well-tuned suspension can provide.
All shipping within Canada will be Via UPS Ground or Canada Post unless otherwise specified upon checkout.
All shipping to the USA will use DHL, USPS OR UPS
Please see our Shipping & Returns page for more information