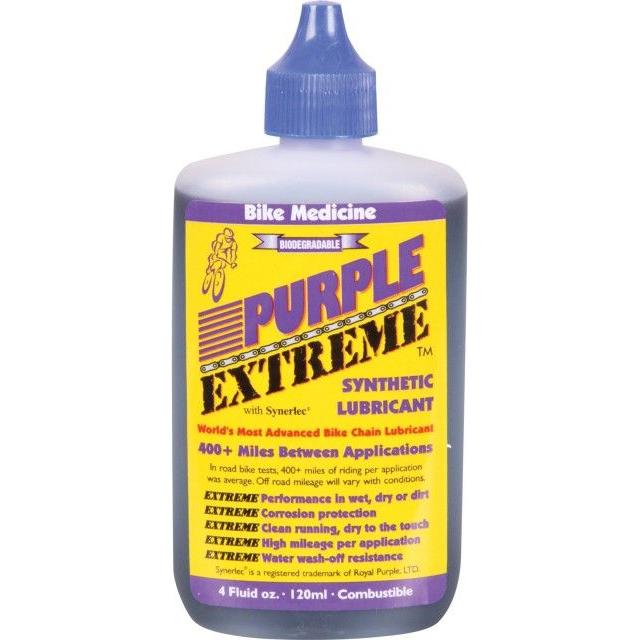 Purple Extreme Synthetic Lubricant
---
In stock, ready to ship

Inventory on the way
LUBRICATION PERFECTED!
Purple Extreme is an advanced, high performance, synthetic bike chain lubricant. It provides excellent protection for chains, open gears and exposed metal surfaces subjected to severe loading. In addition, it works extremely well even in abrasive, cold, wet or acidic environments. Purple Extreme's additive technology forms a slippery, super-tough, synthetic film on metal surfaces that protects drivetrain parts far beyond the ability of conventional oils or waxes.
High Mileage Per Application – Most cyclists Experience 400+ Miles of Road Riding Between Applications of Purple Extreme.
Best Value For Your Money! One Bottle of Purple Extreme Provides Three or More Times the Mileage of Most Competing Products.
Runs Clean – Doesn't Attract Dirt.
Originally Designed To Run Chains In Salt Water – Will Not Wash Off In Rain, Mud Or Snow.
Smooth Running – Reduces Drivetrain Noise
All Conditions Lubrication Security – Protects From Wear Up To 400° F. and Down To -100° F.
Does Not Harden in Cold Conditions.
Ultra High Film Strength – Prevents Metal To Metal Wear.
Stays In Place – Does Not Shed or Fling Off
Penetrates Quickly To All Parts Of The Chain.
Helps Prevent Corrosion – Stops Rust From Ruining Your Drivetrain
Perfect for use on e-Bikes with their increased torque and chainwear.
Purple Extreme was originally formulated to protect drive chains in the mining business and on offshore oil rigs, in some the harshest conditions imaginable, for months at a time.
PURPLE EXTREME prevents chainwear from the inside out!
When you add it all up, Purple Extreme is Lubrication Perfected!
All shipping within Canada will be Via UPS Ground or Canada Post unless otherwise specified upon checkout.
All shipping to the USA will use DHL, USPS OR UPS
Please see our Shipping & Returns page for more information