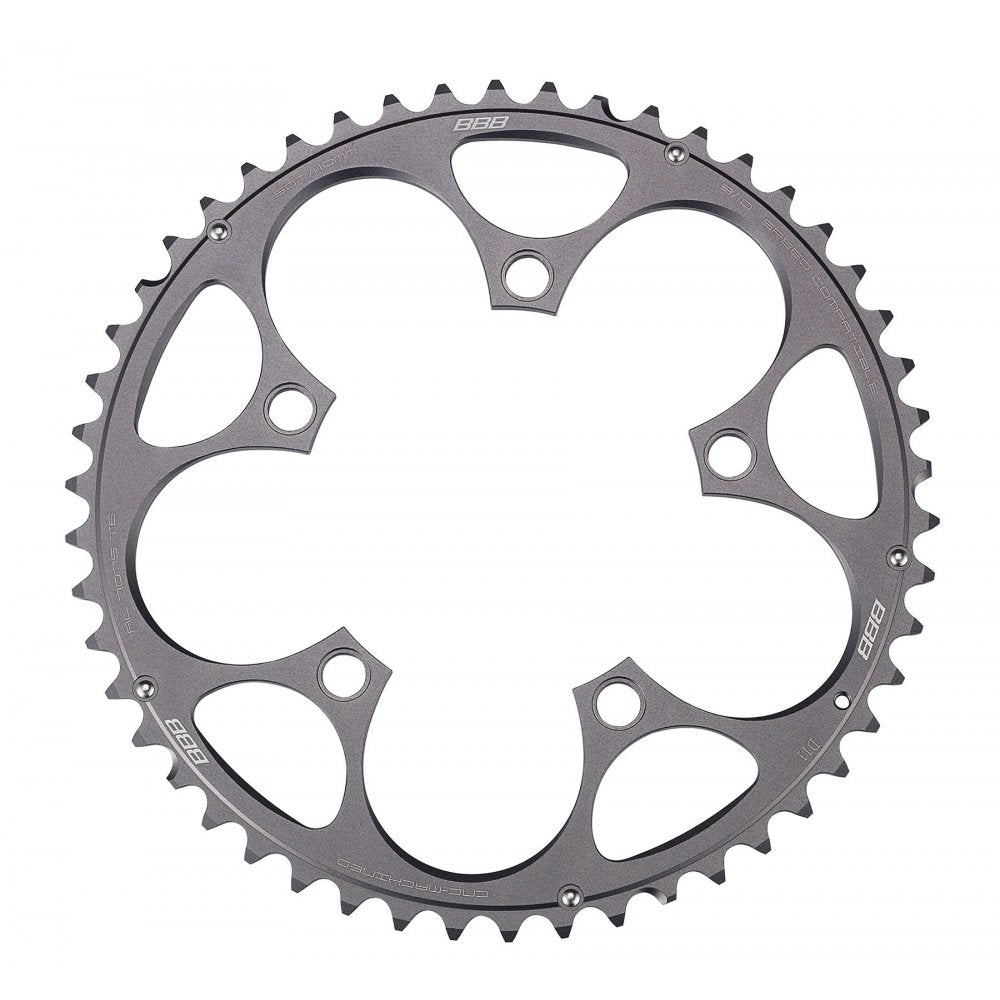 BBB BCR-31 - CompactGear Chainring 110BCD, 9/10/11 Speed Compact, 50T
---
Low stock - 4 items left

Inventory on the way
Introducing the BBB BCR-31 CompactGear Chainring, the perfect accessory for cycling enthusiasts seeking optimal performance and versatility. Engineered with precision and designed for the utmost efficiency, this chainring offers an enhanced riding experience like no other.
The BBB BCR-31 CompactGear Chainring features a 110BCD (Bolt Circle Diameter), ensuring seamless compatibility with a wide range of cranksets. With its durable construction and meticulous craftsmanship, it guarantees a secure fit and reliable performance, even under intense cycling conditions.
Designed specifically for 9, 10, and 11-speed compact drivetrains, this chainring provides exceptional versatility. Whether you're tackling steep climbs or cruising on flat terrains, the 50T tooth configuration offers the ideal balance between speed and power, allowing you to conquer any cycling challenge with ease.
CompactGear technology lies at the core of this chainring, optimizing gear ratios and enhancing overall efficiency. Experience smoother shifting and improved power transfer, enabling you to maximize each pedal stroke and achieve greater speed and control on the road.
Not only does the BBB BCR-31 CompactGear Chainring deliver impressive performance, but it also boasts a compact design. Its lightweight construction minimizes weight without compromising on durability, ensuring a responsive and agile ride. Additionally, its sleek aesthetic adds a touch of style to your bike, elevating your overall cycling experience.
Upgrade your cycling setup with the BBB BCR-31 CompactGear Chainring and unlock new levels of performance and versatility. Whether you're a seasoned cyclist or a casual rider, this chainring is a reliable companion that will take your cycling adventures to the next level.
All shipping within Canada will be Via UPS Ground or Canada Post unless otherwise specified upon checkout.
All shipping to the USA will use DHL, USPS OR UPS
Please see our Shipping & Returns page for more information